Tomorrow I'll have my 56th birthday. It's not too bad really, I thought it was the 57th, so I actually gained an extra year! Not that age matters. My hair is quite white I've noticed "en passant", but as I've decided to embark on some new adventures I feel if not young, so at least timeless.
Much has happened since my post last April. I'll not share it all here, just some points of interest. I'm leaving France after 25 years. It's time, and opportunity knocked, so who am I to keep my door closed? I'm moving back to Sweden, but not my hometown of Gothenburg. No I'll stay as far south as possible, within a hop from Copenhagen and the easy escape out into the rest of the world. Also, I'm joining a project that I have been introduced to by my brother; the extension of an already existing eco-village. That's such a huge thing that I can only look at it in bits and pieces, but I know that if we can pull it through it'll be great. Not only for us the participants of the project, but also for the surrounding communities. Well, one day at a time…
And, I'm going back to Africa. I promised myself that I would never ever go there again, after Nigeria, but this time it's Ghana, and for my father's 90th birthday. What can I say? Things change, and so do I, so here I go in January escaping part of my first winter by staying away until early March. I'm looking forward to the whole adventure, and hope to be able to record it separately. We'll see. What else before I give it over to the old post I found here? For the moment not much. I still work on my different art projects. It's been mostly work with eco-dying, or botanical printing which I think is what I will call it in the future. There's been some more sewing, and altering and general re-cycling of garments, and also some printing on paper, making booklets and journals. More about that in a future post. This will probably be "My Last Post from France", and goodness only knows when I'll have a moment's peace to post again. There's packing and moving to be done. then un-packing and freezing to death in Sweden. Then packing and going to Ghana. Then….
Anyway. I'll leave you with my old found post.
Stay well!
"Half and Half"
So much has and still is, happening, and the year passed it's half-way mark, and everything is changing. I'm at the stage where I'm not sure I can even tell if the glass is half full, or half empty. Not that it matters. Suffice it to say I'm sure there's a glass, and I have it in my hand! Just as I could the feel the sea on the noon-breeze the other day, can I also feel the winds of change gathering force. I'd like to think that I'm for once, the one stirring the air into new patterns of force and momentum. I'd like to think I'm the butterfly, beating my wings ever so lightly, creating this new reality.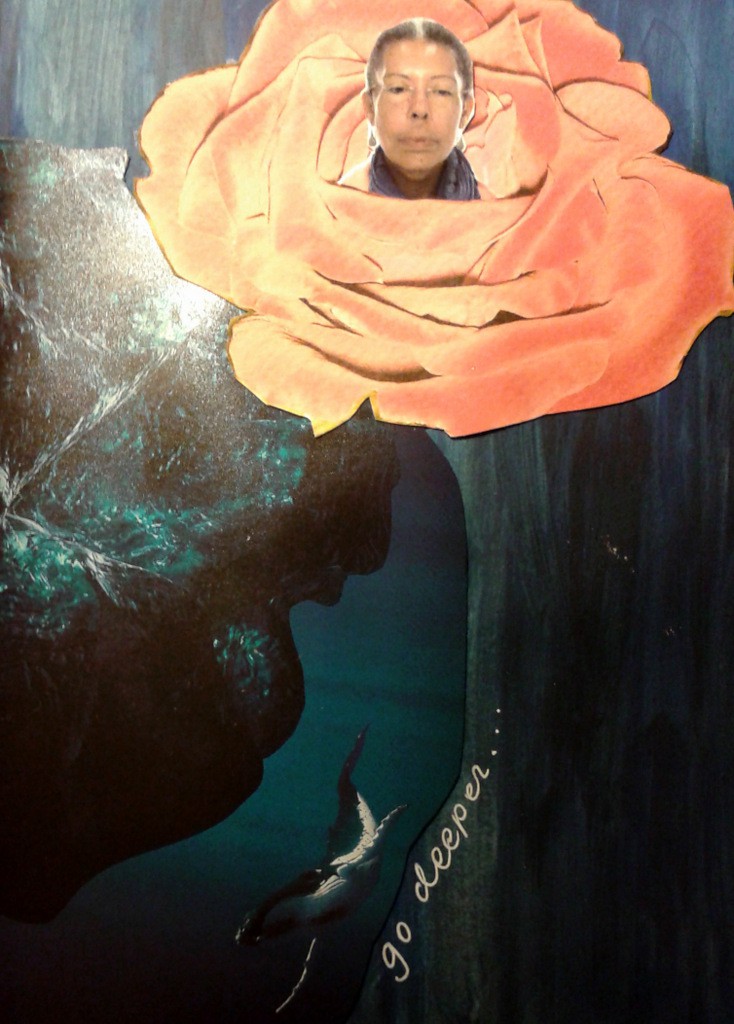 It's amazing to me how once an idea get a hold in my mind, once I've turned it over, tasted it, looked closely at it, it transforms into the New Truth. I can go with this new way of thinking, walking away with a good deal of confidence and trust in that which shall come. Where this detached state of mind comes from I have no idea, and here's not the place to delve into it either. This is my blog where I share my creative journey. Please bear with me, because the way I hammer at the key-board bringing about this post is frankly beyond anything I've done in a long time. What it has to do with my creativity remains to be seen.
*
The next evening, already! I'm fairly organized, usually, but the tourist season is upon me, as is the very recent hefty rise in temperature… I feel sluggish and stressed all rolled into one sticky mess. Things will get better however. I've already scrubbed out my copper-pan, gathered some bark and leaves from the eucalyptus in my backyard to brew into a dye-bath. For what I'm not really certain of yet, but it'll come.
Oh yes, it was about the future I was thinking yesterday when I started to write! Well, times are a-changing, and I've pretty much decided to leave France. Leave my lovely friends, my work, my house…. Wow! Seeing it in print makes it somewhat scary. It's time. Time I take charge of my life, instead of dealing with whatever comes my way. So much of this life has been happenstance. I don't mind, and very much has been very good, but still.. I'm all grown up now; having lived abroad longer than in my native Sweden, been married twice, over 55 now….  It's time. With this break-up of my old life I hope to make a new one, on my terms, playing by my own rules.
(to be continued…)