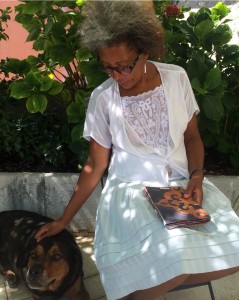 The label "artistic" has followed me all my life. I've doodled and drawn, cut and pasted, painted, sewn, but never taken the steps towards a proper schooling. For good or bad who knows? Instead I've picked up techniques here and there, or invented my own, and here I am; Happily sharing it all with you.
Sharing my art is at least half the pleasure of being creative. I hope to touch or move my fellow human beings with my work. As much as creating art is a private process, I still find it utterly incomplete if there is no sharing involved.
I grew up outside Gothenburg, Sweden. In my late teens I moved to Copenhagen, Denmark and shortly after to Nigeria. I worked together with my first husband in tailoring and design of ladies wear there, in Akure, Ondo State. Having moved back to Sweden in the mid-80s I met my soon-to-be second husband. After some years preparing for the big leap, we moved to the French Riviera in 1991, and never looked back since.
For the past several years I've been re-connecting with my creative side, starting with photography, creating note-cards. From there I've moved on to anything that captures my imagination; collage work, mixed media, art journaling… the possibilities are endless and I invite you to follow my journey here.
All photos posted on this website are my own, and I than you to ask my permission should you want to use any. The photo of me is the property of Linda Hough.
Exhibitions:
Espace Culturel E. Leclerc, Vence: 4.9-12.5 2013 "Nature et Souvenirs"
Sankta Birgittas Kapell, Cagnes sur Mer: 18.10-1.11 2015 "Serenity"
"Chez Kat et Max à L'Auberge 'In", Vence: 2.11-16.11 2015 "Serenity"
"Chez Kat et Max à L'Auberge 'In", Vence: 15.4-15.5 2016 "Dialogue with Nature"